Circle Gas Supplies Clean Cooking Gas to over 100,000 Households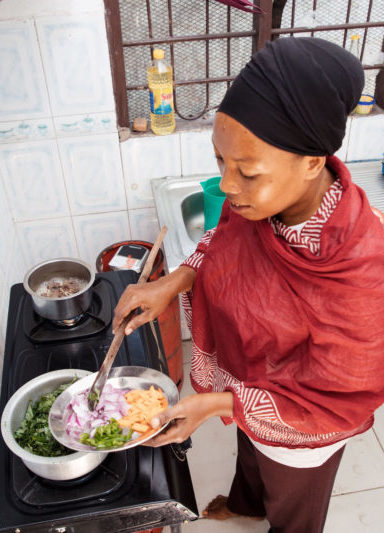 We are proud to announce that we now supply over 100,000 customers with climate-friendly cooking gas services. Circle Gas sells Liquefied Petroleum Gas (LPG) as a cooking fuel on a pay-as-you-go basis.
Cooking with gas is recommended in order to combat the harmful effects for the climate of cooking with so called 'dirty fuels' including charcoal, firewood and kerosene2. 2.6 billion people around the world do not have access to clean fuels for cooking.2
Major climate impacts of LPG for cooking instead of traditional fuels include a reduction in the release of black carbon, a harmful climate pollutant, and a reduction in deforestation, as forests are currently being depleted to make charcoal for cooking. LPG stoves are also more efficient than most traditional fuel stoves.
Circle Gas is a member of the Clean Cooking Alliance (CCA) Venture Catalyst Programme which aims to build a pipeline of scalable businesses capable of delivering affordable, appropriate, high-quality clean cooking solutions. With support from CCA, Circle Gas is in the process of developing its carbon credits.
"This is a fantastic milestone and shows the great potential of innovation in the clean cooking sector," said Jean-Louis Racine, Chief Program Officer at the Clean Cooking Alliance. "CCA believes that LPG has an important role to play in a just  energy  transition and achieving universal access to clean cooking, especially over the period to 2030. Congratulations to the Circle Gas team, we look forward to continuing to support your growth and impact"
"We are proud to be part of the Clean Cooking Alliance Venture Programme. It has provided strong support for our business and is helping us to maximise our social and environmental impact" said Volker Schultz, CEO of Circle Gas.
The leading Kenyan IT and financial services provider, Safaricom, is an investor in Circle Gas and has a wide reaching strategic brand and technology collaboration with the Circle Gas Kenyan subsidiary M-Gas. It provides critical support in the expansion of M-Gas activities across Nairobi and beyond. Mobile money payments in Kenya are processed using Safaricom's popular M-Pesa service.
1) IPCC, Special report on 1.5 2018, Intergovernmental Panel on Climate Change: Chapter 4: Strengthening and implementing the global response.
2) IEA, IRENA, UNSD, World Bank, WHO. 2021. Tracking SDG 7: The Energy Progress Report. World Bank, Washington DC. © World Bank.
News
Check back frequently to hear the latest news from Circle Gas.